Bail Bonds service in Orange County since 1963

FAMILY OWNED AND OPERATED

Located directly across from the jail
FOR IMMEDIATE BAIL SERVICE
CALL NOW
800-422-4540
Lowest Rates
* Se Habla Espanol *
About Us – Orange County Bail Bonds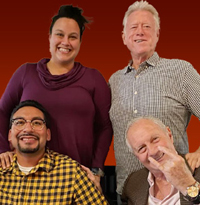 We are a family owned and operated business, and have been since 1963. Bob Miller, co-owner of Orange County Bail Bonds was born and raised right here in Orange County. His wife and co-owner, Anne, their son James, and Cousins Mike and Scott are always ready to help your family through the bail bond process. Bob and Anne have been writing bail since 1995. Our Cousin, Mike Yoakum, started writing bail bonds in 1988. Scott Miner has been with us since 1998 and our son James, still in training, is the newest member of our company. Our family is here 24 hours a day, seven days a week; we'll get your loved one out of custody at the least expense and with a minimal amount of paperwork.
Family Owned And Operated Bail Bond Service Since 1963
With Orange County Bail Bonds you'll always get one of our family members who will compassionately and professionally give you all the bail bonds information you need to let you make the right decision as to how to get your friend or family member out of jail. No pressure; just friendly, courteous assistance.
Our office is located directly across the street from the Orange County Main Jail, Santa Ana Court House and the Santa Ana City Jail.  If necessary, one of us will come to your home or we will meet you at any other jail in Orange, Los Angeles, Riverside, San Diego and San Bernardino counties – at no extra cost! We have reciprocal agreements with agencies all over the country and we can get bonds posted, immediately,   in almost every state.
Anne brings a wealth of life experience to our business; she went to high school on the Island of St. Thomas, and later, became a fashion model and a travel agent. Upon graduating from college she worked for Dai Ichi Kongo Bank in Tower One at the World Trade Center. After a while she got the travel-bug and back-packed through Europe, where she picked fruit at a farm in Kent, England and tended bar in a pub in Maid Stone, UK. Then, on a whim, it was off to South Africa where she worked as a travel agent and as a waitress in Johannesburg.
Bob was born right here in Orange County, before Hoag Hospital was built! Long before Fashion Island was conceived and South Coast Plaza was still a just a bean field! He started, as a busboy, in the food service industry at the age of 14. He then went on to management, later; he was an owner/operator of several restaurants from Newport Beach to San Francisco to New York to St. Thomas, US Virgin Islands. In St. Thomas, Bob went on to own Caribbean Jeep and Car Rentals and was a partner in the world famous Moutain Top Bar and tourist destination.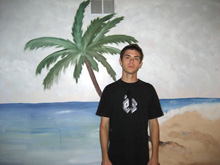 Our 21 year old son, James, was born on the island of St. Thomas. We moved back to Orange County when he was 6; as he was starting elementary school. Like his father, James graduated from Newport Harbor High and then went on to Orange Coast College. He looks forward to, one day, running the business.
Cousin Michael literally grew up in the bail bond business; both his father Michael Yoakum Sr. and his mother, Dorothy Hart of Hart Bail Bonds were bail agents when he was a child. Michael was just 16 when first started helping his mom and dad in the bail bond business. He got his bail license in 1988 and has been in and around bail ever since! While still working with us; Michael went back to school and has recently graduated, with honors, from UCLA. He isnow pursuing his Master's Degree in History. Michael plans to continue, both, his bail bond and his academic careers.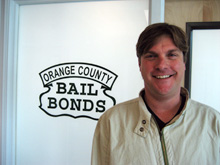 Expert Spanish Translation Service
Scott Miner has been with us since 1998. He has owned several businesses through-out his life. He has been in the printing business, real estate and restaurant business. Scott, Bob and Anne meet on St. Thomas and were friends for many years before coming to Orange County. Like Bob and Anne, his time in the food service industry, dealing with all kinds of people in many different situations helped him to have a better understanding of people's wants and needs. Scott is our resident expert in Spanish and is always available to help our Hispanic clients during the stressful experience that having a loved one in jail can be.
As you can see, we come from a diverse background that all have a common denominator; customer service. Our goal is to have our family help yours through the trying experience. Please call us at 800-422-4540 should you need any further assistance.
Toll Free: 714-224-5688 or (888) BAIL-ALL
Main Office
CIVIC CENTER LAW BUILDING

Orange County Bail Bonds
1043 West Civic Center Drive
Suite 100
Santa Ana, CA 92703
Robert L. Miller – CA Ins. Lic.#1840710
Bail Bond Services for: Orange County, Costa Mesa, Santa Ana, Huntington Beach, Los Angeles, San Diego, Mission Viejo, Laguna Beach, Newport Beach, Anaheim, Fullerton, Long Beach, City of Orange, Aliso Viejo
Providing Bail Bond Services to Santa Ana, Orange County and surrounding areas and communities of Logan, Floral Park, Fairhaven, Washington Square, French Park, Lacy, Saddleback View, Heninger Park, Eastside, Wilshire Square, Memorial Park, Delhi, Sandpointe, Thornton Park, Bristol, Laurelhurst, South Coast, Centennial Park, Sunwood Central, Artesia Pilar, Fisher Park, Santa Ana Triangle, French Court, Riverview West, Northwest, Flower Park, Morning Sunwood, Windsor Village, Park Santiago, Portola Park, Shadow Run, Willard, Valley Adams, Central City, West Floral Park, Bristol Memory Coalition, Riverview, Bella Vista, Pico-Lowell, Santa Anita, Eldridge Park, West Grove Valley, Republic Homes, New Horizons, Madison Park, Cedar Evergreen Co-Op, Mabury Park, Rosewood Baker, Cornerstone Village, Casa de Santiago, Windsor Village North, Concord, Riverglen, Edna Park, Casa Bonita, Meredith Parkwood, Lyon Street, Fairbridge Square, Grand Sunrise, Young Square in zip codes: 92701, 92702, 92703, 92704, 92705, 92706, 92707, 92711, 92712, 92735, 92799